#Fact: No pants parties are truly the best kind of parties
What you are about to read is an actual tinder conversation:
The best part is, I wasn't kidding.
See, I may not be a car expert, but as Chief Revenue Officer of a company with an automotive vertical, it is in my best interest to start to learn.
I texted asking if he'd be okay if we filmed the ride, and he was happy to oblige. One the biggest lessons I took away from Talk Nerdy, is that everything is a narrative. I don't have to sit on a stream shamelessly promoting my startup, all I have to do is tell a story around cars and have people psychologically connect the dots that "oh! Jen is doing something in automotive!" Then, when they meet someone who is in the space, they'll remember to connect (knowing that I'll do the same for anyone else that reaches out).
Works like a freaking charm, and it's also really cool because I get to explore and go on this journey with you all. Everybody wins!
See streams below.
We went through tunnels in downtown (seen in the second video as the first one cut out), and Matt talked about the car's features and why Mustangs are his favorite muscle car.
Once we wrapped, we decided to hit up the Skyspace exhibit, which is California's tallest open air observation deck. You might have seen some of the videos that went viral over the last couple of weeks, with the 1,000 foot high up glass slide?
Yeah, that thing.
I rode it.
We both tremendously enjoyed it, and were surprised at the speed we each hit; they're not fucking around.
If you do go, I'd suggest getting a VIP ticket to avoid the lines. Fortunately, it wasn't super crowded, but you never know. It took us about an hour from start to finish to see everything. (Honestly, I wish they had more photographs of what LA used to look like, or something more historical about the city that they are providing 360 degree views of.)
Anywho, somewhere around midnight, I thanked Matt for the great evening, and put myself to bed.
The next day, I went to spin and on the way home stopped off at the hardware store to pick up the final items for my costume.
<tangent> About a month or so back? My girlfriend Heather got an invite to our mutual friend Brock's Halloween in July party at the Houdini estate.
My answer was carnation style instant ...
Unfortunately, Heather couldn't make it, so I decided to bring my new girlfriend from LinkedIn, Courtney. She had reached out a few weeks back, and as we grabbed coffee, I could immediately tell we were going to be friends. What better party to bring a new friend to? I thought. </tangent>
As I walked up and down the aisles of the hardware store, a gentleman stopped asking if I needed anything. Yes, I said. Fishing wire.
Sure, he said. Right this way. What are you working on?
It's for a costume actually. I'm going as a freelance Charlie Chaplin (pants being optional), and the mustache is the key part. Unfortunately, the last time I tried wearing a fake mustache (I love that this is a theme in my 30s), it came right off, so I wanted to try using fishing wire and secure it behind my ears allowing it to move on a sliding mechanism (which will also make it easier to eat and drink from).
Wow, he said. That's really smart.
<tangent> I also love how any time I go to the hardware store, it's never for anything "normal." The previous time I went, I needed to get a 3 gallon bucket for ayahuasca. Thankfully, the the guy that helped me that time didn't ask what I was working on. I'm so honest sometimes it shocks people, and without skipping a beat I know I would have said, "oh I'm going to be in a room with 17 strangers doing drugs and puking." </tangent>
I grabbed everything I needed to (hopefully) work, and even purchased a "For Rent" sign, pinning it onto my back to further the narrative.
Shockingly, it all worked out, and at 7:45 Courtney arrived at my house. En route to the Houdini mansion, we stopped off at my friend Brian's party in Silverlake. I texted to make sure he was okay with us showing up in costume.
We arrived shortly after 8, and saw Brian before entering the house.
"This is exactly as I hoped it would look," he said laughing.
"Ah, I said trying to hug him. I'm a bit hindered at the moment," I said unable to move my arms. (I forgot to double tape. Fortunately, I was wearing a cape, so it worked out.
I also love that capes are a theme. Man, your 30s really are the best years of your life.)
As we walked in, we could hear the record scratch.
I tried to explain to a REALLY hot guy that we were going to a costume party after, but he immediately cut me off.
"You don't have to explain anything. You guys look amazing," he said.
Courtney and I laughed as we sipped our very fancy scotch (it was a scotch party), saying we should do this more often.
<tangent> In the PUA (pick up artist) community, they do something similar called peacocking. You basically do something to stand out from the crowd. There's a whole psychology behind it. Watch Mystery and Neil Strauss talk about it:
We were kinda doing that, but for different reasons. </tangent>
About a half hour and yet another uncomfortable Uber ride later, we arrived at the address for the shuttle to the mansion.
There's no way the address is right, said the driver. Where could a shuttle pick someone up from this garage? It's illegal to stop in front.
Well, I said, guess we're going to have to go and find out.
We got out of the Uber and walked down the sunset strip over to the garage.
I turned to Courtney and said, "never in my life did I think I would be walking down Sunset blvd without pants on. This is a very strange life experience."
She laughed agreeing, and minutes later, we found other fellow shuttlers all in insanely cool costumes. The majority of attendees at these parties are either in tech or entertainment, so everyone goes all out.
As we arrived onto the property 20 minutes later, the jaws collectively dropped.
I've previously been to parties at the mansion before, but this one was different.
We immediately explored the grounds, and thankfully we were both smart enough to wear heels we can walk in (on uneven terrain). I came loaded for bear with a map, but surprised myself with how much of the property I remembered.
<tangent> The house has a wiki page, but much like its famous owner, there is an air of mystery. The property is currently a recording studio owned by mega producer Rick Rubin, but it's not the original home. The first one burned down in the 50s, and allegedly Houdini and his wife Bess had previously lived in the guest house. It is rumored that the original pool (still on the property) is the one where he famously practiced his handcuff underwater stunts.
</tangent>
Courtney and I danced the night away as we talked to cute boys. Somewhere past the point of walking a straight line, I got grabbed by this couple asking, "how much?"
I could tell English wasn't their first language, but I immediately responded back with for what?
He then pointed to my sign on the back.
"Oh bless no, I said. It's part of my costume, I'm not actually for sale."
Another sentence I never thought I would say.
The awkward question was asked a few more times throughout the evening, but I just brushed it off. Here I was on this amazingly beautiful historical property with some of the most attractive people in LA.
Life for El Friel does not suck.
As I arrived home around 3 (shocked I could stay awake that long with my current old lady status), I reached into my purse and noticed something was missing.
House keys.
I was so focused on my costume that I must have walked out of the house without them.
I've managed to lock myself out of my apartment twice in one year (not proud of that), and BOTH times have been after a late event.
The first time I had to sit in my lobby in a ball gown for a half an hour, and this time, I was scantily clad wearing a fucking for rent sign. My building manager is like a second mother and nothing says, "yes, I am a respectable young lady" quite like having to knock on someone's door at 3am because you forgot your house keys.
She was obviously exhausted but super cool with everything. "Shit happens, she said, just bring the keys back."
I took the stairs instead of the elevator shaming myself with each step.
The next morning, I got hit up by my gf Chelsie ready to rock and roll with our Sunday Funday adventure.
<tangent> Earlier in the week, I got hit up on Tinder for a guy inviting me to his yacht for drinks on Sunday. My response was short:
The "models and bottles" bullshit typically isn't my scene, but I do enjoy the people watching. My friends are all super chill, and pretty much the opposite of this type of crowd. Still one to love boats, (I had my boating license at age 9 as a kid) how could I refuse? </tangent>
We grabbed an Uber and headed over to the Marina. We were both utterly exhausted from our weekend adventures, but laughed at how ridiculous this seemed.
"So, you've never met this guy before?" she asked.
Nope, I said showing her the tinder messages. I checked his profiles out (we added each other on Facebook too), and simply said "yes."
"That is amazing," she said. Thanks for the invite on this random adventure.
"Of COURSE!" I replied back.
We then walked onto the dock, and found the boat. (It wasn't difficult since it was the only one packed with half naked women.)
As we climbed aboard, I began looking for my new friend.
"Do you see him?" asked Chelsie.
Nope, I said, not trying to be too obvious (in case we actually WERE on the wrong boat).
I then walked over to the bar and started pouring us drinks.
"Well, Chelsie laughed, this will work too!"
We then walked to the front of the boat, and moments later my new friend had arrived. I chose to lay low, and not say anything (which was very unlike me, but also considering he lead with "hey come to my yacht party" I got over it).
<tangent> On the way over Chelsie and I both wondered if we should bring something. She's from Texas and I'm from Connecticut, and THE NUMBER ONE RULE of being a guest is that you never show up empty handed.
I took a minute and said, typically yes, but I've been to parties like this before and they're not going to care; I've never seen a model bring a bottle. </tangent>
For the next hour, Chelsie and I sipped our champagne on the bow laughing at everyone taking selfies.
Selfie. After selfie. After selfie.
SO. MANY. FUCKING. SELFIES.
"Guy's we're like soooooo hashtag blessed."
They even took a series of group shots, and I laughed to Chelsie saying stick your head in the frame so we have photographic evidence.
So we did ...
As the boat began to embark on it's journey, I looked back at Chelsie SHOCKED.
"WE'RE LEAVING THE DOCK?" I said shocked understanding that to take a boat of this size out on the water it would EASILY run $50K, plus the captain, plus all the food and booze.
Just wow.
I then turned laughing saying, "this is the second time in my life I've been on a yacht and not known where it is going."
<tangent> When I lived on the island, my ex had family in Naples, and we went to a party in Port Royal also on a yacht. We were less than 10 minutes into the party when we felt the boat take off. My eyes shot over to my boyfriend wondering where the fuck are we going?!?! We were only going to stay for a minute, and we were meeting friends later for dinner.
FOUR.HOURS.LATER. We arrived back at the dock I didn't expect depart.
Never again, I said. Never again.
WHO DOES THIS HAPPEN TO, NOT ONCE BUT TWICE!!
</tangent>
Neither of us had definitive plans for the day, so we pretty quickly learned to go with the flow and even made friends.
The girls were all pretty sweet. Some smarter than others, and the guys were surprised that Chelsie and I were relaxing just doing our own thing (not taking photos every two seconds).
An hour and some change later, we ended up in Malibu. Not without first picking up a hot chick in a jet ski.
I mean clearly this was bound to happen ...
A few more glasses of champagne later we docked bidding adieu to our new friends. I then hugged Chelsie goodbye after yet another epic adventure, and hit up my friend Javier.
<tangent> Javier and I met at the Extraordinary Measures premier 6 years ago. I saw him the second I walked in, but it wasn't until we were both done talking to Harrison Ford that I worked up the nerve to say something.
"Hi, my name is Jen Friel, I said turning around. We need to become best friends because we have the coolest story on how we met."
All these years later, we're still friends.
We had been trying to meet up for the last couple of weeks, but between his schedule and mine we couldn't make it work. Javier is directing the new Rings Three movie coming out in a few months, and he's still in post production. </tangent>
JAVIER, I shouted walking into the Whaler in Venice.
We then grabbed a table and started to shoot the shit. Javier is such a good person, and so fucking hot. Like seriously ...
We then went back to his house and made out like 8th graders.
Even though I've had a crush on him for the last six years (he wanted to date when I was starting Talk Nerdy, and I stupidly said no), you can't just have sex with someone you're such good friends with. The chemistry has always been there, but this wasn't something I was going to hump, er jump into, er on?
The next morning, I smiled waking up half naked in his bed.
"What is your day like today?" he asked making breakfast.
Actually, today is going to be a big day. I have a big press release going out, and I'm scared shitless.
"Send me the link, he said, and I'm proud of you Free-elle (how he pronounces Friel)."
"Man, I said, as he poured a fresh glass of orange juice. I am definitely coming back to this hotel."
He smiled as we wrapped up, driving me back home on his way to the studio.
I then walked into the office ...
AT 11:30 ...
... wrapping up the release.
Having never done something like this before, I was COMPLETELY freaked out. (Seriously, I will sometimes even get sick to my stomach.)
See, I'm going to be on the West Texas Investors Club season 2 tonight as a follow up on the season 1 appearance. It's basically a three minute commercial for our new company, so I've been SUPER excited.
We don't have a PR company, so it was up to me to take care of the press. I researched and then wrote the release, deciding that if we are going to do this, it's a go big or go home mentality. I chose the nationwide package, targeting business journals, tech, automotive, and insurance outlets.
Within two hours the release was picked up by 231 outlets (the exact copy).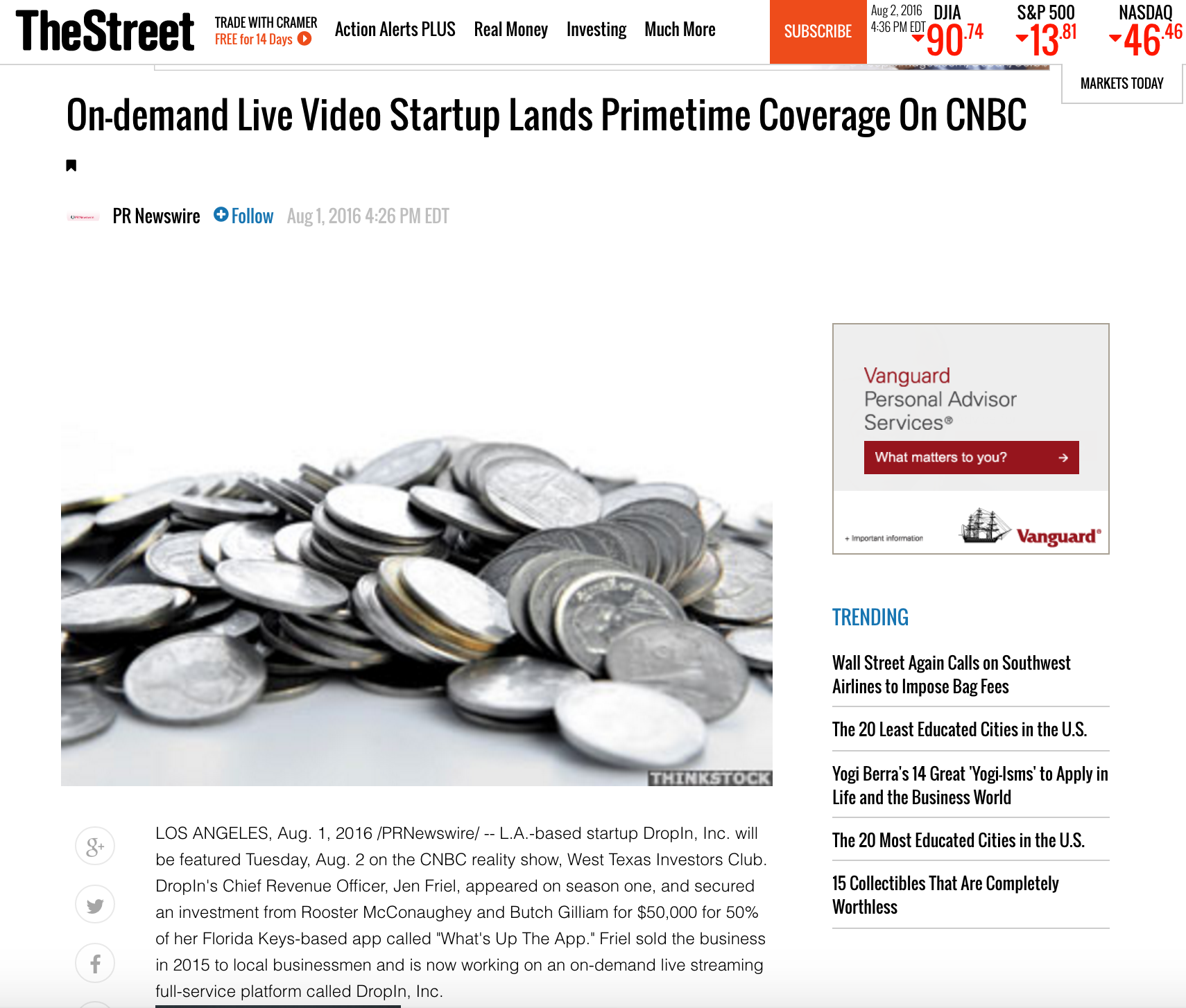 I called the founder (who was out of the office) completely shocked.
Our reach is at 80 million in two hours. Eighty. Million. For. One. Release.
Maybe this is standard? Maybe not? But for me, not having a frame of reference, I was SUPER fucking impressed.
"This was your idea, he said, what do you expect? You kill it, Jen."
"I've never done this before, and it's scary wondering dear God is there a typo, did I miss something? I was SUPER freaked out all day."
"You're blossoming into an incredible executive, and I'm really proud of you. You trusted your instincts and they were right again," he said.
I smiled, telling him that I had to get back to work.
So now, I'm heading off to play trivia, and watch the WTIC episode with my buds. Tune in tonight at 10pm on CNBC.
Oh, and the final audience reach on the release? 89 million globally.